Landlords
Advertise your rooms directly with our 247-portal marketing.
Advertise your room for just £12 per month inclusive of VAT.
Please complete the "register with us" and we will call you back to process your advert. You will need 5 photos.
You will be charged monthly in advance and all leads are sent directly to your email for you to arrange your viewings.
Did you know we have cleaners & maintenance teams available 24/7. We can assist in advice with dressing and presentation and of course its up to you but the 247 Rooms Boards are available to for just £30 by post.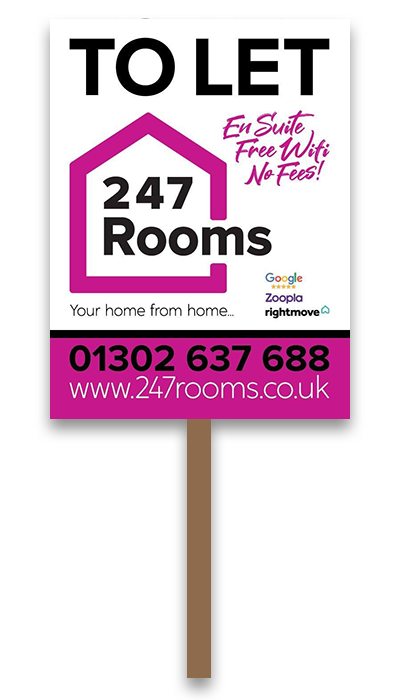 For more information on advertising your rooms please call 033 00 88 67 48
Our 247 Rooms Management
Our Service Charges (+VAT)
Basic HMO Setup & Management: £150 setup fee plus 15% pcm inclusive of VAT management fee.
Full-house HMO Setup & Management: £300 setup fee plus 15% pcm inclusive of VAT management fee. This includes Rent Protection (RP) and full legal cover (LC).
If you have your own RP & LC then there is a reduction of £150 per new Tenancy.
A new tenant can be found for £150; this covers the initial inventory and documentation. A tenancy can be renewed for only £60.
What do you get for this setup fee?
We'll do all the necessary work on your behalf to recover any outstanding rent and ensure you don't lose out during the process.
Our policy covers you for the costs and expenses involved should your property be damaged by a tenant to the value of over £1,000. We'll provide you with legal advice and civil dispute support should you need it.
We can provide legal defence of any criminal prosecutions relating to the letting of your property, such as actions for unlawful discrimination.
Once you've evicted your tenant, we'll also cover 75% of the monthly rent paid for up to two months should the property remain vacant, giving you time to make any repairs if needed without losing out financially on rent.
Should you need help to repossess your property from a tenant, our policy will give you with the legal support to regain your investment. We can also help with eviction of squatters.
And all this too.....
Full Marketing on Rightmove, Zoopla, On The Market and many more.
Advertising in local store shop if available in your region.
Multi Award Winning Agent
Safe Agent
Full Client Money Protection
UKARLA registered Agent
ICO Compliant Agency
Anti-Money Laundering compliance checked Agent
Property Redress Scheme Agent
Website & HD photos
Accompanied viewings
Account Manager
Viewings feedback
Tenant referencing - Inc Employer and Landlords checks
Right to Rent check
Creation of Tenancy agreement
Local expert knowledge
Guidance and Support
Legislation compliance
Trained property experts
HB & UC support
DPS protection collection and registration
Rent collection and processing
Monthly Statements
Invoice payments
Arrears Management
Move in/out checks
Periodic visits
General and Emergency maintenance management (fees apply)
Guaranteed rent & legal cover (fees apply)
Emergency call out (fees apply)
Deposit alternative
Utilities Notification
24/7 Maintenance reporting
24/7 Payment system
Full rent protection
Full Legal Cover for eviction including all solicitors' costs and court costs and even bailiff should the worst take place.
Contact us now on 033 00 88 67 48 to arrange your free valuation.